Collection:
Collection:
Spare Tire
Spare Tire
Regular price

Sale price

$80.00
*Does not include mount*
Kenda Trailer Tires and Wheel - AM30670
Tire with Wheel
12 Inch
5 on 4-1/2 Inch
4.80-12
Load Range C
Steel Wheels - Galvanized
Boat Trailer Wheels
Bias Ply Tire

Kenda

Good Rust Resistance
Bias tire has a ply rating of 6 and a 990-lb maximum load at 90 psi. The 12" diameter x 4" wide steel trailer wheel features a 5 on 4-1/2 bolt pattern and a corrosion-resistant galvanized finish.
Features:
The Loadstar trailer tire is designed for excellent handling at high speeds
8-Spoke steel wheel is galvanized to resist rust
Tire-and-wheel assembly meets Department of Transportation specifications
Specs:
Rim dimensions: 12" diameter x 4" wide
Bolt pattern: 5 on 4-1/2"
Wheel capacity: 1,250 lbs
Wheel bolt size: 1/2"-20
Pilot diameter: 3.19"
Tire size: 4.80-12

Section width: 4.9"
Outer diameter (when inflated): 20.7"

Tire capacity:

Load range: C
Ply rating: 6
Maximum load: 990 lbs at 90 psi

Warranty:

5-Year on tire
Limited 2-year on wheel
1-Year Worry-Free Guarantee
This tire has a 1-year worry-free guarantee. If within the first 12 months the tire is damaged in any way, it will be replaced at no charge.
Bias Tires vs. Radial Tires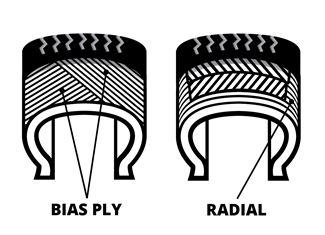 Bias ply tires are designed for off-road or agricultural applications. They are built with thick, durable nylon cords that are positioned at a 30- to 45-degree angle to the direction of travel. The layers alternate in a crisscross pattern, making the sidewalls stiffer so that the entire tire is able to flex easily. As a result, the tire provides a smooth ride and improved handling when trailering on uneven surfaces.